2021 Featured Sessions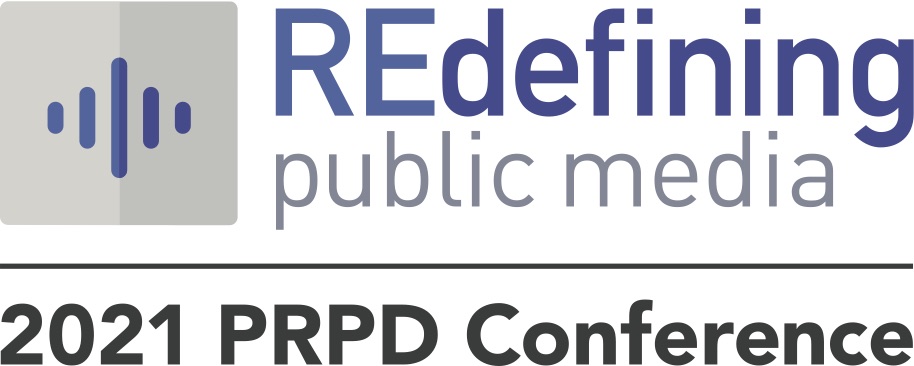 In another year when budgets are tight, conferences are cancelled and travel seems impossible, PRPD brought our industry together virtually for three days of strategic discussions about the big issues we're facing. About 400 public media leaders, managers, programmers and content creators attended sessions and shared their perspectives on everything from podcast creation to organizational identity to mergers and consolidations. We encourage you to watch these session recordings below – "The Future Audience is Here" takes a look at national data by ethnicity and helps us understand how to serve and grow diverse audiences. "Battling Burnout With Your Team, Your Peers and Yourself" will help you manage the workloads and expectations of your teams and yourself. "Urban Alternative Redefines Public Media" showcases the exciting work this new format is going as it grows and becomes viable. Please share this content with anyone else on your staff who you think will benefit from these discussions.
---
The Future Audience is Here
Moderator: Abby Goldstein, President & Executive Director, PRPD
Gabriel Soto, Director of Research, Edison Research
Tamberly Ferguson, Director of Digital Media & Strategy, WDAV
Sachi Kobayashi, Public Media For All
Ernesto Aguilar, Director of Programming, Radio, KQED
For the first time in American history, the 2020 census shows a decline of the white population in America - shrinking by 8% while people who identify as multi-racial increased by 276%. This country is more diverse than ever before and the public media audience of our immediate future is very different than the one we have today. The question hanging in the air for many in our industry is "how can we do our very best to serve diverse communities?" In this session, Edison Research's Director of Research Gabriel Soto breaks down the national Share of Ear and Infinite Dial data by ethnicity and walks us through some of the findings of the latest Latino Podcast Listener Report to help us understand the preferences, choices and audio listening behaviors of our increasingly diverse audiences. The data lays the groundwork for a deep discussion with Public Media for All about what it's going to take for public media to make significant, meaningful and impactful efforts to reach and serve new audiences.
---
Battling Burnout With Your Team, Your Peers, and Yourself
Moderator: Jenn White, Host, 1A, NPR
LaToya Linzey, Senior Vice President, People and Culture, Colorado Public Radio
Irving W. Washington, Executive Director & CEO, Online News Association (ONA)
Melissa Swift, US Transformation Leader, Mercer
It's been a tough year in a tough business. Public radio has a history of doing more with less, often to the detriment of the staff that makes the impossible happen on a dime. We need to examine the connection - or disconnect - between the mission driven, aspirational nature of our work and the resources we apply to it in order to retain and build our workforces. We need to acknowledge that our non-content teams work just as hard as our newsrooms. And we need to retain talented staff in a business landscape where their skills are highly coveted. We'll be bringing together a panel of experts to talk about what it means to address the full spectrum of burnout from an organizational perspective with key takeaways for leaders to bring back to their stations and teams.
---
Urban Alternative Redefines Public Media
Moderator: Abby Goldstein, President & Executive Director, PRPD
Mike Henry, CEO, Paragon Media Strategies
Nikki Swarn, General Manager // Program Director, 104.7 THE DROP // Rocky Mountain Public Radio
Ben Thompson "Madd Hatta", Content Director, The Vibe, KTSU, Houston
Ayana Contreras, Content Director, Vocolo
Featuring a special announcement from Jacquie Gales Webb, Vice President of Radio, CPB
The Urban Alternative format is redefining how public radio reaches, engages and serves younger and more diverse communities. The new format was built by and for a new generation of public radio listeners; a younger, multicultural cohort that would create its own public media mission and sound. These stations are looking to encourage a target audience of 18 to 44 with the desire to build innovative content and services that connect audiences through music discovery, lifestyle affinity and community engagement. The leaders of this new format are multifaceted in their experience ranging from commercial radio to digital and social media marketing and its already having a profound impact on public media's culture. This new format is changing long-held preconceptions of what public radio is and creating a model for becoming essential to untapped public radio audiences.
Thank you to our generous sponsors.
Gold:
Bronze:
Additional Sponsor: