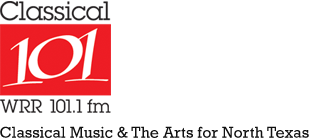 Classical Music Director and Host
Dallas, TX
Compensation
$60,000-$70,000, depending on experience
Posted
March 16, 2023

KERA is looking for a talented Music Director and host to join the dynamic team at WRR as we take over management from the City of Dallas and convert it to a non-commercial station.

WHO WE ARE:
KERA, the public broadcasting organization for Dallas/Fort Worth, is looking for a Host and Classical Music Director for WRR. Serving the country's fifth-largest media market, KERA reaches more than 2 million people weekly through KERA TV, KERA News, KXT and Art&Seek. For more than 60 years, North Texans have turned to KERA as a destination for community engagement and lifelong learning.
As we seek to recognize and reflect the increasing diversity among our audiences and the communities we serve, we encourage applicants from diverse backgrounds and with diverse perspectives to consider employment opportunities at KERA.

POSITION SUMMARY:
The Classical Music Director and Host is responsible for helping shape WRR's musical identity. As an on-air host, they will be responsible for creating a compelling daily show that creates a sense of place, connecting the music we play to our audience in North Texas.
In keeping with WRR's goal to be more than a radio station, this role will be one of the primary faces of WRR to the community; and will help create opportunities for audiences to deepen their connection to music and the arts – online, on the air and in neighborhoods throughout North Texas.
This position is FLSA classified as exempt, is not eligible for overtime.

WHAT YOU'LL DO:
Host a daily program that is deeply connected to music, arts and culture in North Texas with a focus on WRR's target audience
Regularly create, curate and post music and programming content and engage audiences on WRR's digital and social platforms
Work closely with the Assistant Program Director to refresh the musical identity for WRR in a manner that deepens loyalty and engagement of existing listeners, attracts new audiences and increases station revenue
Review music for airplay, localize the music library, create custom reports from BDS and JBE for analysis, and make music selections that are consistent with WRR's musical identity and target audience
Manage WRR's music library, ensuring all songs are FCC compliant
Create daily playlists, logs and backups in MusicMaster in collaboration with WRR's Assistant Program Director
Regularly represent WRR in the local music community, with arts organizations, at station promotional events and at music industry conferences and events
Serve as WRR's primary liaison with record labels, artists, managers, and venues
Book and oversee WRR Live Sessions including artist release forms, station ids and membership testimonials
Host studio performances and interviews for broadcast and digital platforms
Work with Digital Media department to ensure reports for ASCAP, BMI, Sound Exchange and Composer are up to date, completed and filed in a timely manner
Work with fundraising and corporate support teams to increase revenue for WRR, and participate in membership drives, major donor events and other fundraising activities
Be an active participant in KERA's work towards equity, diversity, inclusion and belonging.
Work in a manner that is consistent with KERA's mission, vision and values; and maintain compliance with all company policies and procedures
Comply with KERA's COVID policies
Perform other duties as assigned
This list of job duties is not exhaustive and is subject to regular reviews and updates.

WHO YOU ARE:
We believe a strong organization includes employees from a range of backgrounds, with different skills, experiences, and passions. If you do not meet every qualification but have some of these skills and think you could be the right candidate for the job, we would like to hear from you. Please apply and tell us more about yourself.
Five years of professional experience as an on-air talent, and in-depth knowledge of classical format
Strong interviewing skills and the ability to create and curate digital and social media content that engages audiences
Experience with MusicMaster, ENCO, Wide Orbit or similar radio playback and automation systems
Demonstrated commitment to supporting diversity, equity and inclusion in the workplace
Excellent writing and communication skills, and proven ability to collaborate with internal and external contacts and to consistently work well with a wide range of skilled and creative people
Knowledge of FCC guidelines and requirements
Demonstrated proficiency with technical and broadcast equipment
Creative problem solver and self-starter with sound judgement and the ability to complete multiple tasks on deadline.
Ability to learn new systems and procedures quickly
 
BONUS IF YOU BRING:
Passion for and experience with public broadcasting
Three years of experience as a Classical Music Director
Knowledge of North Texas people, music, cultures, issues, and geography as well as national and international music
Fluency in Spanish
 
SALARY RANGE
$60,000 to $70,000, depending on experience.
 
BENEFITS
Generous vacation (3 weeks), sick (8 days), personal time (2 days) and holidays (10)
Comprehensive health, dental and vision insurance
KERA-paid short and long-term disability, basic life insurance and AD&D insurance
Flexible scheduling and hybrid work environment
403b plan with KERA-match after 1 year
Culture intentionally focused on diversity, equity, inclusion and belonging
Robust employee assistance program available to the employee and all members of their household
 
LOCATION:
We expect that this position will work out of our Dallas office at least 80% of the time.
 
HOW TO APPLY:
Please email Mike Henry with Paragon Media Strategies.
 
KERA is an Equal Opportunity Employer
KERA believes that diversity is important to our success. We are committed to equal employment opportunity and all qualified applicants will receive consideration for employment without regard to race, color, national origin, sexual orientation, gender identity, gender expression, age, religion, veteran status, disability or any other characteristic protected by law.