Let's Go Live! Registration and FAQs
August 7, 2020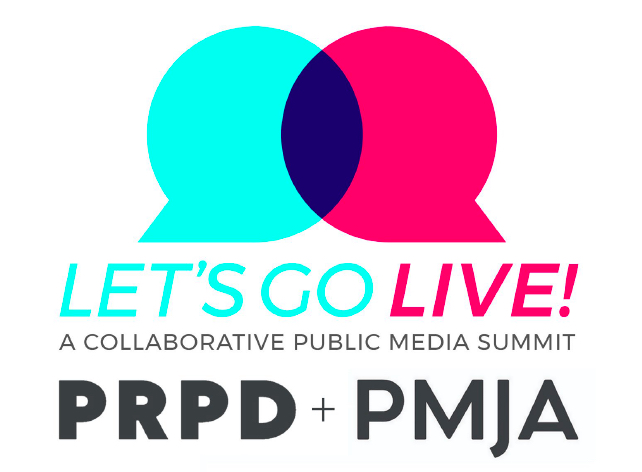 Click here to register for Let's Go Live! | A Collaborative Public Media Summit presented by PRPD and PMJA. 
We are excited to partner with our colleagues at PMJA to provide a comprehensive virtual summit focused on bringing important and timely information to you and your teams during this unprecendented time in history. 
We encourage you to take advantage of our group rates to engage more of your team members - all from the comfort of their home workspaces. As we begin to roll out the agenda in the weeks to come, our goal will be to provide an expansive array of topics to allow you to customize your experience. All content will also be available post-summit for PRPD members. 
Still have questions? Here are answers to a few FAQs we've been fielding:
When? 
Monday, September 21 – Thursday, September 24 (with daily sessions running from 11:00 am – 5:00 pm (EST).
 
Who?
We will announce our full agenda on Thursday, August 27, however, we will be making exciting announcements in the weeks to come. This new, partnered platform allows us to bring you a rich variety of timely information in the areas of news, music, podcasts and more.
 
How Much $?
We're thrilled to deliver this conference on a virtual platform. One…it removes the cost of travel and accommodations, and two…it allows us to invite more of our public media family to the conversation. That said, our pricing structure is as follows:
$150 Individual Rate for PRPD and PMJA members
$200 Individual Rate for Non-Members
Group rates for PRPD and PMJA members: 
Register 5 – 9 people at $125/person
Register 10+ people at $100/person
 
What Should I Expect?
Once you register, you'll be asked to set up a profile on Attendify, our virtual event platform. Once you set up your profile, you'll be able to interact with other conference attendees, as well as receive notifications about agenda announcements.
You'll also want to download the Lets Go Live app on your smartphone between registration and September 21st (show day) so you're ready to engage in the fun we have planned.
New to this virtual conference platform? We're working to make this an easy and engaging experience for everyone. As we get closer to our show date, we'll provide information to help you navigate our Let's Go Live! world and allow you to customize your experience.
If you have additional questions, please let us know!