PUBLIC RADIO CONTENT CONFERENCE 2022
July 12, 2022
Image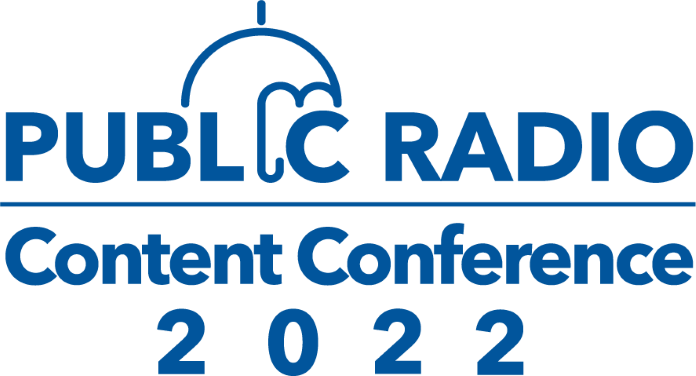 Now in its 35th year, the annual Public Radio Content Conference is the premier gathering for noncommercial programmers, content managers and leaders in the public media ecosystem. Each year, more than four hundred public media professionals from across the globe come together to be inspired and enlightened by high level presentations, discussions of national importance, professional development, training opportunities and much needed networking with colleagues. This year's schedule includes opportunities to get out and explore the world class cuisine that New Orleans is famous for. Our conference hotel is situated along the river just a short walk to Jackson Square and the French Quarter and our room rate is just $139 a night, plus tax!! Come for the conference and enjoy one of America's most culturally rich cities at the same time. 
This year's general sessions include
Media Habits of Generation Z 
Gabe Soto, Senior Director of Research, Edison Research
Megan Lazovick, VP, Edison Research
Born between 1997 and 2012, Generation Z is coming of public media age now and that will continue into the decades ahead. Zoomers are the first generation to grow up with mobile devices in their hands. Gen Z's are multicultural digital natives and we have much to learn about the way they relate to and consume media. Edison Research has designed this special presentation blending data from the latest Infinite Dial, Share of Ear, and their Edison Podcast Metrics with one-on-one recorded interviews with Gen Z's to give us a glimpse of our future audience. Join Edison's Senior Director of Research Gabriel Soto and Vice President Megan Lazovick for this enlightening look at the audio habits of the next generation of listeners.
Perceptions of the Multicultural Audience
Warren Kurtzman, President, Coleman Insights
Megan Campbell, Vice President/Consultant & Director, Qualitative Services, Coleman Insights
Public media recognizes the need to diversify its audience, but what do multicultural listeners REALLY think about stations and programming? Coleman Insights has undertaken an original study of non-Caucasian public radio listeners to determine if our own assumptions about our content and brands are true. Using their Campfire Online Discussions Group platform, the team at Coleman Insights engaged with a group of multicultural public radio consumers to determine whether their local stations are meeting their needs and expectations. Join Coleman Insights president Warren Kurtzman and his colleague Meghan Campbell, Vice President/Consultant & Director, Qualitative Services, as they take us through the findings of this unique study.
Navigating Change
Kerry Edelstein, Founder and President, Research Narrative
Change is scary because it often involves the fear of the unknown, but there are times when doing nothing becomes a much riskier choice than making a bold leap into uncharted territory. How can public media preserve the foundation that makes it strong while meeting the need for innovation? What myths or past narratives must we let go of, in order to thrive in the future? Kerry Edelstein, President and Founder of Research Narrative, has helped many media brands such as Netfilx, YouTube, NPR and Discovery shed light on their future paths. Join Kerry for a look at how successful media leaders conquer their fears and prepare for large scale change.
Raising the Bar for Local News
Mark Fuerst
Caroline Porter
All across the country, public radio editors and journalists are approaching an inflection point in their public-service mandate. After a decade of investment and expansion, station newsrooms, which have been strongly focused on broadcast and audio, are looking to reach new audiences and to develop multi-platform distribution as they fill the vacuum left by newspapers' decline. This discussion will draw on interviews with newsroom and station leaders conducted by Mark Fuerst and Caroline Porter, funded by the Wyncote Foundation. They will identify key decisions, investments, practices and aspirations expressed by many of the leading stations.  As important, they will suggest concrete steps other stations could follow to amplify their local news presence in their home markets.
Starting From Scratch
Mike Henry, President, Paragon Media Strategies
Nikki Swarn, General Manager & Program Director, The DROP, Denver
David Safar, Managing Director, The Current, Minneapolis
Jacquie Gales Webb, Vice President of Radio, CPB
Jason Wilkins, Program Director, WNXP, Nashville
If you could start a new music station, stream, brand or format from the ground up, what are some of the biggest challenges you would face? With so many public media organizations merging, diversifying and launching new music services, the challenges are becoming familiar territory and we can learn from the people are doing it successfully. Join this group of veteran innovators as they share their experience in starting a new music service from scratch and keeping it vibrant along the way.